Ancient Ways Shop • Ou Fabriek • Knysna • Garden Route • Western Cape • South Africa
Tarot Decks · Candles · Books · Music · Jewellery · Incense · Crystals · Drums
Stockists of Celtic, Wicca and Shamanic Ritual Items

Ancient Ways is an esoteric / New Age shop
that caters for people who follow alternative routes, and are environmentally aware.
We stock Witchcraft, Magic and Shamanic items, crystals, CDs for meditation, Reiki etc. We also carry a wide range of books, incense, smudge sticks, candles, Shamanic drums, Native American style pipes, bags, Moccasins, Witches, Fairies and assorted posters.

NEW: Pagan Almanac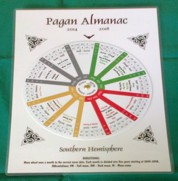 Our newly released Pagan Almanac indicates all phases of the moon (Full / Dark) as well as the Moon Name, for the Southern Hemisphere.

Only available at Ancient Ways

Find us in the Ou Fabriek building in Knysna, corner of Main and Grey street.
Unique hand-made drums made to order.
Click on images to view larger versions.
Magical brooms.
Wands are hand made using magical woods as used by the Druids and Wizards. Each wand is accompanied by a card explaining the woods magical qualities.
Hand made dream catchers and medicine shields.
Shamanic drums are handcrafted and are available in two sizes: 460 mm & 320mm (18" & 12").
Native American style ceremonial and every day pipes are also handmade and useable. Pipe bags are crafted in soft leather with beadwork decorations.
Crystal and Medicine bags in various sizes hand made in leather.
A wide selection of statues and figurines, crystals, amulets, pendants and jewellery.
Large range of incense sticks, smudge sticks, incense granules and herbal incense as well as top grade aromatherapy oils.
Selection of singing bowls.
ALSO: Ionic salt lamps from Himalayan mountains electric and tea light.
Tarot Bags hand made from black velvet with purple satin liner.